Happy Sunday! I hope you are having a relaxing weekend! It's been a cold and rainy weekend here in the Central Valley of California. Weekend highlights at my place – Bunco on Friday night with my Bestie's Bunco group. Hubby and I rented Escape Plan with Stallone and the Govenator; good movie, a lot better than we thought it would be, we really enjoyed it. And The Butler with Forest Whittaker and Oprah Winfrey; touching story of a pivotal time in our countries history – the civil rights movement.
Before we get to the party I wanted to share my some of my HAPPINESS with you from last weekend too;
Our Mother-Daughter Getaway Weekend to Carmel-By-The-Sea last weekend.
My daughter is blessed to live on the coast of Monterey Bay; so for her we didn't go too far from home. But we had a wonderful weekend "away" together. Here are the highlights of the weekend. 
I started the weekend by helping her in her fourth grade classroom for the afternoon. As soon as the bell rang….we were off to Carmel! Thanks to Groupon we got a good deal on a two night stay at a quaint Bed & Breakfast; The Fireplace Inn.
We had dinner at the luxurious, 1833 in downtown Monterey. Took a step back to the 1980's watching a VHS (remember those? The B&B had quite a selection; that they kept BEHIND the counter – as if someone was going to take them!) My Best Friends Wedding – classic chick flick!
The weather was BEA-U-TI-FUL on Saturday! We strolled downtown Pacific Grove; shopping, relaxing in a a few coffee shops, reading our books, window shopping, and of course non-stop talking.
We indulged at the Cafe Trieste, in downtown Monterey, who has THE BEST Chicken Alfredo Pizza! And no girls weekend isn't complete without a few decadent desserts; the BEST lemon bar and fruit tart. Yum!
I am SO THANKFUL my daughter lives close enough to steal her away (Thank you Clinto!) a weekend or two a year!
Let's get this party started!
Happiness is Homemade Link Party #6
Where there is terrific food! Great ideas! Family fun things to do! AND you don't have to leave the couch!
You have come to the right place! Let's get the party started – The Happiness is Homemade Link Party!!
Check out the features from last weeks Happiness is Homemade Link Party
MOST VIEWED
1. Grumpy's Honey Bunch made these Sweet Chili Bacon Wrapped Water Chestnuts
2. Creative and Delicious made these Coffee Chocolate Dip and Fresh Fruit
3. Recipes and Ramblins made these Mushroom Nachos
4. The Pin Junkie made just in time for Valentines Chocolate Dipped Strawberry Roses
If you were featured display our button proudly!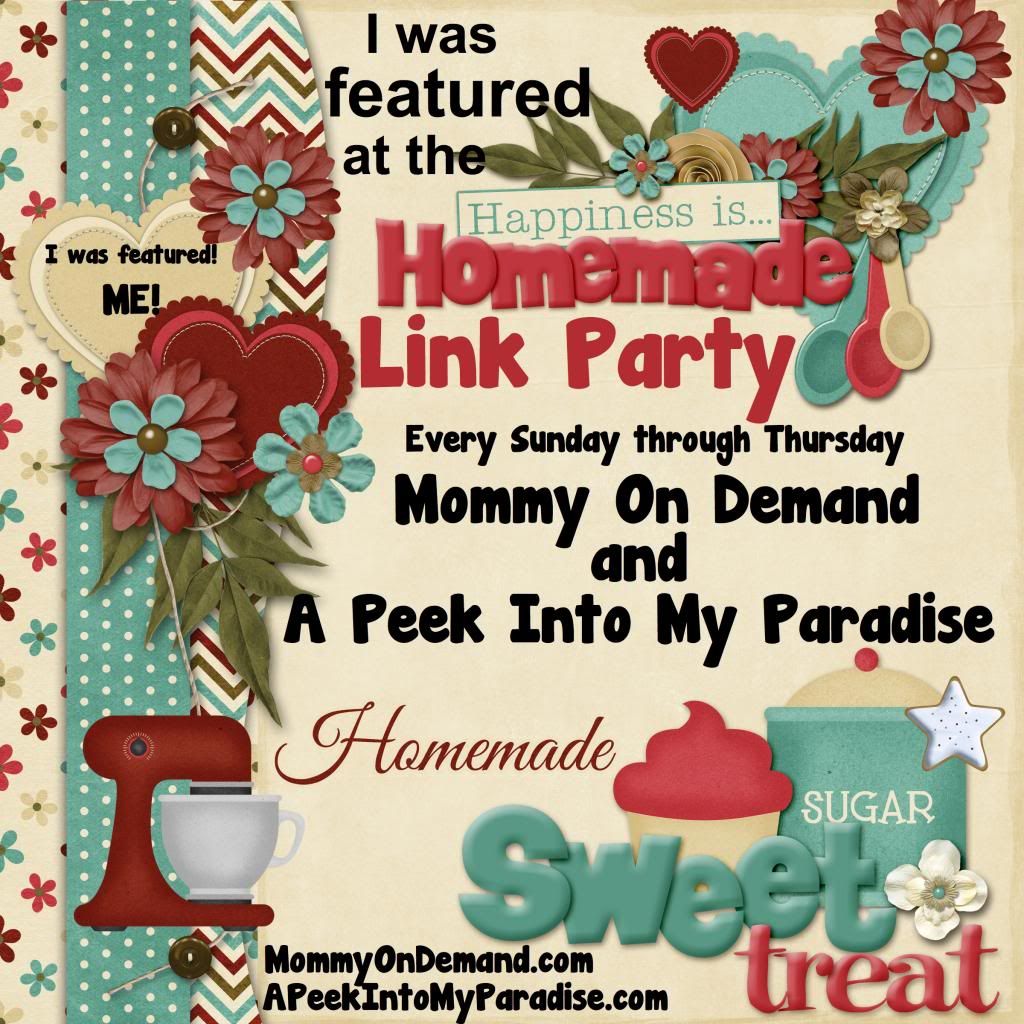 Follow A Peek Into My Paradise's board Happiness Is Homemade Link Party Favorites & Features on Pinterest.
Please welcome this week's co-host!
Meet Carrie over at a Mother's Shadow. She keeps a very busy life with her husband of 30 years 5 children and grandchildren. She enjoys spending time with her famiy, community and church. She enjoys cooking and crafting.
FACEBOOK | TWITTER | PINTEREST | GOOGLE+
Welcome back Sinea from a Ducks 'N A Row
FACEBOOK BLOGLOVIN PINTEREST TWITTER GOOGLE+
Have you visited Sinea's blog; Ducks 'n A Row? If not. We hope you will hop over and say hi! Sinea loves spending time with her family, loves dogs and being a grandmother. She has a passion for writing, especially short stories. At Ducks 'n A Row she shares her love of cooking, organizing, tips on cleaning, recipes and loves to party! On Wednesdays she hosts the Wonderful Wednesday Blog Hop. Thanks Sinea for co-hosting with us! You can follow Sinea by clicking on the links below.
Interesting in Co-hosting Happiness is Homemade?
Simply fill in the Rafflecopter each week for you to enter to win a co-hosting spot with us. One lucky winner will co-host the Happiness is Homemade Link Party two weeks following; to allow time for the winner to get their information to us. We will also include 2 of your links in the raffle if you are chosen. As always it is free to sign up and helps bring viewers to your page!
a Rafflecopter giveaway

Now that's enough talking let's get this party started!!!
The rules are really simple! Make sure you visit a few other blogs and make some new friends along the way. Feel free to link up your favorite recipes, crafts or your latest DIY project. We want you yo share it all!
As always, please make sure to follow your hosts and co-hosts!!
MOMMY ON DEMAND
FACEBOOK PINTEREST GOOGLE+ TWITTER BLOGLOVIN
A PEEK INTO MY PARADISE
FACEBOOK PINTEREST GOOGLE+ TWITTER BLOGLOVIN